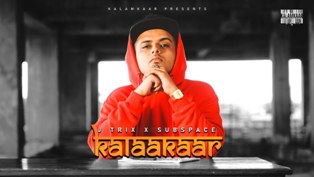 Kalaakaar Lyrics – J Trix: Presenting the lyrics of the song "Kalaakaar" sung by J Trix. The music of this song is produced by SubSpace.
Kalaakaar Lyrics – J Trix
Sar pe Chadta Rehta ye Suroor hai

Kalaakaar Kalaakaari ya pher Paiso ka Majdoor hai

Kaabil Kitne Saare Phir kyu Jayadataar Majboor hai

Kyu Doobta insaan Jabki Pak Ye Fitoor hai

Mehnat me Kaami nhi, Hoosle mai Nami nhi

24 Ghnte dooba rehta Grinde kabhi Thami nhi

Kaamyabii ke Darwaaze pe mai roz Deta Dastak

Rookna Chahta mujhe toh fir rooka aakhir kab tak

Tere Irado mein Khot Hai

Mere Irado mein Note Hai

HipHop ki soch hai

Teri hi team k log hai

Karte Approach hai

Mujhe jo sunte Roz hai

Tere hi sar pe Bhoj hai

Substitue se Bhari padi tere Foj hai

Mere Khilaaf krega Tu Jitni Baatein

Utni meri Moj Hai

Publicity bas Dikhta sabko

Na Dikhta Kaam

Jab tak tu Famous nhi

Tab tk tu Banke Rehta Aam

Views na Dikhte toh Samjhte sala Faltu hai

Gaane Chalne Lagte toh Chaatege Saale Subhe Shaam

Galtiyaan Khud mein, Nikalege Mujhme ye Kharabi

Nashe mein Khud ye, Kehna Chahte hai Mujhko sahrabi

Sunte ye Sab, Bante Phir Jaise Na khabar Zara bhi

Karke Inke Kaano ko Kaid Milti Mujhe Aazadi

Chaalbaazi Hmse Phir toh Consiquencey alag bro

Lyrics ki Ho baatein phir toh Dominancy alag bro

Manzil Mere nazar mein ye Mehnat ke Natize

Aur Ab paise bhi h Jab mein

Milta Confidency alag bro

Khata Na main Taras bro

Aata jab Beat pe

Kabhi na Week mein

Kru Release toh Chale Repeat pe

Gaane mere Charas Bro

Alag hi Vibe hai, Versitial hai

Asli Log aur Asli Hype hai

Bachpan se Rough and Tough

Na Chahiye Jayada Khatirdaari hai

Teedhi Soch, Ulte Kaam pe Lagate Baazi

Hatke Karna Kuch Hamesha mera Bhai Star

Banna chod, Ab sitrao ke Bich Krni Aatishbaazi..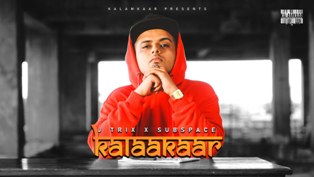 J Trix – Kalaakaar Song Details
Song: Kalaakaar
Written and performed by J Trix
Music produced by- SubSpace
Mixed and Mastered by- K City Studios