Reminds Me Of You Lyrics – The Kid LAROI & Juice WRLD: Presenting the lyrics of the song "Reminds Me Of You" from the Album JW4 sung by The Kid LAROI & Juice WRLD. This song is produced by Aaron Joseph, Theron Thomas, Sam Sumser, Sean Small & Dr. Luke.
"Reminds Me Of You" finds The Kid LAROI and late mentor Juice WRLD detailing how everything reminds them of their past lover and lamenting how hard it is for them to move on after a failed relationship—a topic LAROI previously addressed throughout his July 2020 project, F*CK LOVE.
The track was first hinted at through Twitter, followed shortly with a clip of The Kid LAROI and Juice WRLD's fiancée Ally Lotti shooting a music video one day before the track's release.
Reminds Me Of You Lyrics – The Kid LAROI & Juice WRLD
I can't play that song 'cause it reminds me of you

I can't watch that show 'cause it reminds me of you

I can't even go there, it reminds me of you

I don't wanna do that, it reminds me of you

Cut off all of my friends 'cause they remind me of you

I can't drink again 'cause I'm reminded of you

I don't wanna do shit that reminds me of you

Everything and everywhere reminds me of you

I know we can't be together ever again

You told me this forever, I ain't know forever could end

You had me fucked up, had me thinkin' I would die here for you

Shit got me fucked up, can't believe I was so blinded by you

But I don't wanna cry

Got my finger on the trigger and I'm thinking 'bout a homicide

I feel like I could die

Maybe if it was all over, I could have you in another life

I can't play that song 'cause it reminds me of you

I can't watch that show 'cause it reminds me of you

I can't even go there, it reminds me of you

I don't wanna do that, it reminds me of you

Cut off all of my friends 'cause they remind me of you

I can't drink again 'cause I'm reminded of you

I don't wanna do shit that reminds me of you

Everything and everywhere reminds me of you

Gotta step out, get some fresh air

Posted in the club, saw you pull up with your rebound

Remind me again, uh, who kicked who out whose house?

Remind me again, uh, who's fuckin' on who now? (Oh)

Fightin' for my heart and baby, I never lose

No, I can't get high, 'cause it reminds me of you

If you ever needed me, girl, I was flyin' to you

Told you that I loved you, girl, I wasn't lyin' to you

Fightin' for my heart and baby, I never lose

No, I can't get high, 'cause it reminds me of you

If you ever needed me, girl, I was flyin' to you

Told you that I loved you, girl, I wasn't lyin' to you

I can't play that song 'cause it reminds me of you

I can't watch that show 'cause it reminds me of you

I can't even go there, it reminds me of you

I don't wanna do that, it reminds me of you

Cut off all of my friends 'cause they remind me of you

I can't drink again 'cause I'm reminded of you

I don't wanna do shit that reminds me of you

Everything and everywhere reminds me of you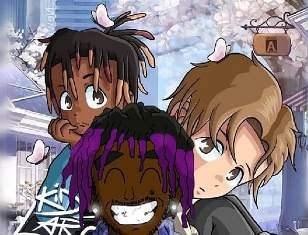 The Kid LAROI & Juice WRLD – Reminds Me Of You Song Details
Song: Reminds Me Of You
Singer: The Kid LAROI & Juice WRLD
Album: JW4
Produced by: Aaron Joseph, Theron Thomas, Sam Sumser, Sean Small & Dr. Luke
Written By: Theron Thomas, Sean Small, Sam Sumser, Dr. Luke, Kim Petras, Juice WRLD, The Kid LAROI & Aaron Joseph
Label: Grade A Productions & Interscope Records
Release Date: December 8, 2020